1 2


Just one hour from St. John's, the BACCALIEU TRAIL advantage consists of a strong industrial infrastructure, competitive tax environment, the highest standards of education, a stable and productive labor force, nearby access to the most technically advanced R & D facilities, and convenient exporting abilities. All this with an outstanding quality of life that blends old world culture with modern conveniences!

Here are examples of local products manufactured/produced in the area!
If your business would like to advertise/display products on www.aroundthebay.ca please contact us for further information.

Click here to check out other business on-line in our region.

Harbour View Crafts


Harbour View Crafts is located in the rich historic community of Carbonear, Newfoundland & Labrador, Canada. We pride ourselves with expert workmanship in all of our hand-knitted products from Shetland Ragg sweaters to cap and mitten sets. We strive to provide our customers with the best quality, craftsmanship and service. For more information about our work please visit Harbour View Crafts or email Jacqueline


Island Rock Studio

Island Rock Studio is located in the beautiful historical town of Winterton, Trinity Bay. The studio provides a unique view overlooking Trinity Bay, and the quaint studio provides a wonderful setting for introspective art design. Ms. Florence Pinhorn completes her artwork in a variety of disciplines, including pastel, watercolor, oil and charcoal. The Studio door is always open and visitors are welcomed! Island Rock Studio is located on Route 80 on the Baccalieu Trail. It is an approximate one and a half hour drive from St. John's.

For more information check out www.islandrockstudio.com
Kelly McEntegart Art Studio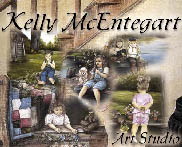 All limited editions by Kelly McEntegart are reproduced from acrylic paintings and printed on museum quality paper. Each print is signed and numbered. Her works are repeatedly noted to create nostalgic emotions among her customers. As clearly seen in her work, she gets her inspiration from the detail and beauty in nature, along with her love for the innocence of children in her life particularly her own son and daughter.

Kelly's original acrylic paintings and limited edition prints may be found in galleries and private collection throughout Newfoundland and Canada.
Click here to check out Kelly's outstanding art work.
Images In Slate
500 million year old gift ideas…

It took nature 500 million years to make one of the finest natural slates in the world. At IIS, we preserve this quality while offering you a distinctive choice of awards, plaques and architectural signage etc....

Check them out at www.iis.ca