Local Business Burns to the Ground (12-31-2004)
Andrew's Wholesale in Bay Roberts burns to the ground as firefighters battle freezing temperatures and high winds.


Body Found in Harbour Grace (12-30-2004)
RCMP are investigating the discovery of the body of a 32-year-old man in the area of Lady Lake Road in Harbour Grace. Police say the body was found Wednesday night. An autopsy will be conducted to determine the cause of death. Police are withholding further details for the time being.

The Flag Stays Down (12-29-2004)
Premier Danny Williams reaffirmed his stand on flying the Canadian flag - the maple leaf will not be displayed at provincial government buildings. Premier Williams says the policy will stand and a flood of letters and e-mails condemning the move is nothing more than an orchestrated attempt to embarrass the province. He says the absence of the Canadian flag is a symbol of Ottawa's treating us with contempt.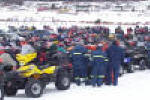 THE RUN FOR THE JANEWAY 2005 IS A GO FOR SATURDAY MARCH 5th 2005 AT THE SHEARSTOWN LIONS CLUB.