Whitbourne, Markland, & Blaketown
Back to Trinity Bay
Whitbourne
Sites of Interest
Sir Robert Bond Park
Heritage Museum/ Railroader's Memorial
Events
Regatta & Folk Festival - Last week in July
Things To Do
Wetlands Conservation Trail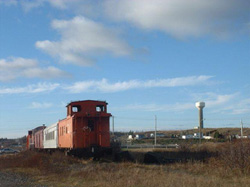 Heritage Museum, Whitbourne
The town of Whitbourne is located just off the TransCanada Highway on Route 81. Newfoundland's first inland town, it is named after Sir Richard Whitbourne, who was appointed by the High Court of the Admiralty to set up the first English law court in the New Word in 1615 and who was kidnapped and held by the notorious Pirate Peter Easton.
Sir Robert Bond, Prime Minister of Newfoundland from 1900-1908, built the Grange, a country estate and model farm in the town. Today the Grange is part of the Sir Robert Bond Park.The town had a connection to the railway dating back to the turn of the century. Collections about the role of the town in the railway, the Newfoundland Ranger Force, the sawmill industry, Sir Robert Bond, and early 20th century life are on display at the Whitbourne Heritage Museum / Railroader's Memorial.
Whitbourne, with a population of 930 (2001 census), has many of the amenities of a small town that has traditionally been a regional service centre. The town's Wetlands Conservation Trail is of interest to many visitors.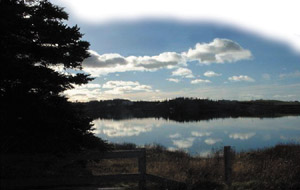 Whitbourne at Sunset
---
Markland
Sites of Interest
Rodrigues' Markland Cottage Winery
Things To Do
Winery Tour
Markland, just beyond Whitbourne on Route 81, is an inland community, founded as an experimental land settlement or agricultural community in 1934. The name Markland was chosen from the word for "forest land" in the Norse sagas.
Today it is the home of the Rodrigues' Markland Cottage Winery, which uses local berries to produce a high quality wine, including blueberry and bakeapple. The Winery offers tours to visitors.
Rodrigues' Markland Cottage Winery
---
Blaketown
Sites of Interest
Blaketown Beothuck Archaeological Site
The Russell's Point site in Blaketown was discovered in 1988 by William Gilbert and Ken Reynolds during an archaeological survey conducted to locate a Beothuck camp described in the journals of John Guy and Henry Crout of the Cupids' Colony (Founded in 1610) They recounted finding three Beothuk dwellings and a canoe on 26 October, 1612.
Russell's Point, Dildo Pond
Photo: Baccalieu Trail Heritage Corporation
Excavations were conducted at the site over a four year period between 1994 and 1997 and indicate that the site was a fall and winter base camp occupied by the Beothuk and their prehistoric ancestors from circa AD 1000 to circa AD 1650. There is a display at South Dildo Museum and Site Interpretation Centre at Russell's Point. Brochures are available at Russell's Garage.
The Kelly McEntegart Art Studio is located in Blaketown.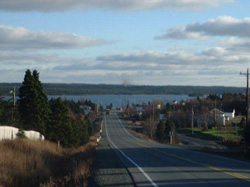 Town of Blaketown