Old Shop , Broad Cove, South Dildo,
Dildo, Dildo Island
Back to Trinity Bay
Old Shop
Turn off Route 80 for Old Shop just before South Dildo. Local tradition is that it takes its name from ``old chop'', because it was used to cut ships' timbers. Located on Trinity Bay, the community is a favourite for "summer people" who have built summer homes in Spread Eagle.
---
Broad Cove
Broad Cove is a small community overlooking Trinity Bay on Route 80 between Old Shop and South Dildo. The Ocean Breeze B&B; is located in Broad Cove.
---
South Dildo
Sites of Interest
Whaling & Sealing Museum and the wooden Whale Sculpture
South Dildo
South Dildo is famous for its role in the whaling & sealing industry. A life-sized whale sculpture is on display near the Whaling & Sealing Museum.
Photographic material and artifacts are on display relating to the whaling industry, prominent local whaling skippers, and the sealing industry. In addition, aspects of Beothuk culture with archaeological finds are on display at the museum.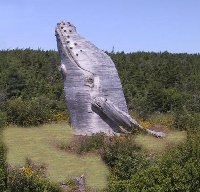 Wooden Whale Sculpture in South Dildo
---
Dildo
Sites of Interest
Dildo Interpretation Centre and Dildo Island
Events
Dildo Days - 2nd week in August
Dildo won the Harrowsmith Magazine Award in 2001 as one of the ten prettiest small towns in Canada. The town has a growing marina used for both pleasure boats and fishing boats.

Dildo and Area Interpretation Centre
The Dildo and Area Interpretation Centre has information about archaeological digs, and artifacts from the Maritime Archaic Indians, Dorset Eskimo, and Beothuk Indians, dating back to 3000 A.D. The town's more recent sea heritage is on display as well. There are touch tanks and a heritage fish room, as well as a replica of a giant squid that was caught in the community in 1933.
The Inn By the Bay and Island View Efficiency are located in Dildo.

Dildo Island
Dildo Island Boat Tours explore the awe-inspiring scenery of Dildo Island, including "Wig Wam Rock".
Remnants of the island's fascinating history can be seen, including
an archaeological site that has yielded a great deal of information
about the Dorset Eskimo, and the remains of the first Cod Fish Hatchery
in the province.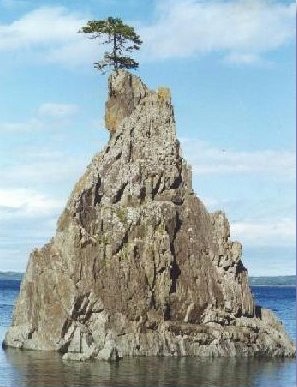 Wig-Wam Rock
Artifacts discovered through the archaeological dig and examples
of the lifestyle of the people working in the area at the turn of
the century can be seen in the Dildo & Area Interpretation Centre.
Cliffs on Dildo Island