Makinsons (Crout's Way Trail)
Back to Conception Bay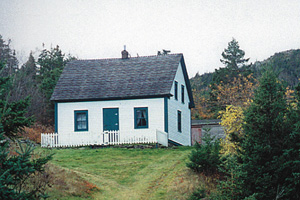 Drogheda, Makinsons
Photo: Baccalieu Trail Heritage Corporation
To See and Do
Crout's Way Hiking Trail
Drogheda Private Museum
Makinsons is an attractive community located about 5 km. south of Clarke's Beach. The Registered Heritage Structure Drogheda illustrates an important part of its history.
Drogheda was built in the early 1800s by the Coveryduck family. Some say settlers named it for a mountain in Wales and that it means "Valley of Hope" in Welsh. Others say it is Gaelic referring to a bridge at a stream, ford or pond. First built as a traditional inland "winter home, it later became the centre for a booming business for lumber and building boats for the Labrador fishery.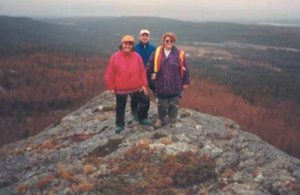 Crout's Way Lookout Over Peninsula
The Crout's Way Trail
The Crout's Way Trail begins from Drogheda and ends in Hopeall, Trinity Bay. The Trail is a challenging adventure that will take at least one overnight stop to complete.
The Baccalieu Trail Heritage Corporation developed the trail in 1998. The Journals of John Guy and Henry Crout were used as references and those working on the trail looked for landmarks and scenes described in the journals.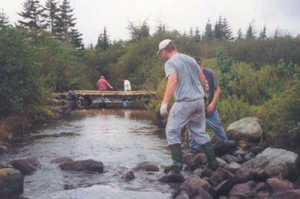 The wilderness trail retraces the path of John Guy's colonists when they cut a path from Cupids to Trinity Bay in 1612 as part of an attempt to make contact with the Beothuk Indians to establish trade.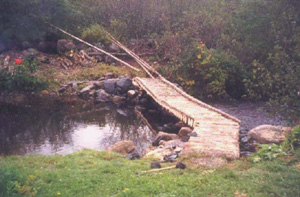 Newly Built Ford Across River
Gerald Smith of Dildo Island Boat Tours recounted the excitement that the group experienced when they could see before them, exactly what the colonists had detailed almost 400 years ago.
Makinsons Lodge, a retreat facility, is located in the community.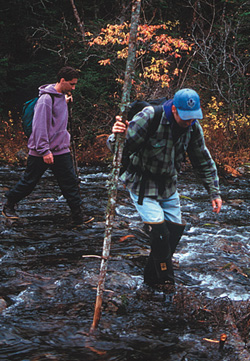 Crout's Way