Low Point, Caplin Cove, Lower Island Cove
Back to Conception Bay
Low Point and Caplin Cove
Flambro Head between Caplin Cove & Lower Island Cove
[M-RON Photograph]
Low Point and Caplin Cove are small communities. Caplin Cove was probably named for the numerous caplin in its waters.
The caplin (traditional Newfoundland spelling of capelin), which is about 13 to 20 cm at maturity, has a blue or olive green back and a silvery underside.
Caplin roll ashore with the waves on beaches to spawn, usually in June or July during what Newfoundlanders call the "caplin scull." In the evenings adults and children go to the beaches equipped with buckets and dip nets to gather up the hundreds of caplin. The weather during this time brings onshore wind, fog, and drizzle and is referred to as "caplin scull weather."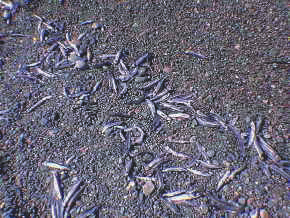 Caplin on Beach
Caplin are spread on gardens as fertilizer. Dried salted caplin roasted on a stick over a camp fire are a favourite snack.
Lower Island Cove
Sites of Interest
Memorial to Crew of Six Brothers
Community Park & Walking Trail
Flambo Head Heritage Society Museum

Major Events
Lower Island Cove Regatta
2nd Week in August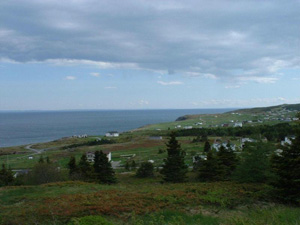 Lower Island Cove
Lower Island Cove has an approximately 1/2km walking trail and a playground with picnic tables.
The Regatta is a popular event in August. The town has a Museum and coffee shop operated by the Flambo Head Heritage Society.
In the old church cemetery there is a memorial to the 13 men from the schooner Six Brothers which left Lower Island Cove for Trinity Bay on May 25, 1883, never to return. It is a reminder of the large number of men along the shore who have lost their lives to the sea.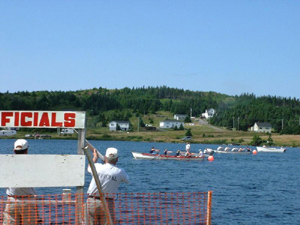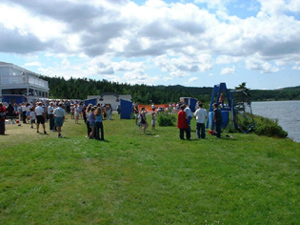 Lower Island Cove Park

Lower Island Cove Regatta , August 2002
---