Red Head Cove, Bay de Verde, Baccalieu Island
Back to Conception Bay
Red Head Cove
Red Head Cove is a tiny community off Route 70 with spectacular seascapes.
Bay de Verde
Sites of Interest
Bay de Verde Heritage House & Story Board
Bear's Cove / Baccalieu Island Look-Outs
Things To Do
Walking Trails

Bay de Verde
Bay de Verde is located near the top of the Bay de Verde Peninsula. The community is famous for its hospitality and spectacular scenery that includes whales and icebergs in season. The name Bay de Verde is a combination of the English, Portuguese, and French languages. John Guy from Cupids Colony called the community Green Bay when he visited the area in 1612. Bay de Verde was very important to the English West Country migratory fishery. French raiding parties destroyed the community and killed a number of inhabitants in 1696 and 1705. The Bay de Verde Heritage House is a merchant-class Victorian house built in 1896 which features many exhibits, including one on the Baccalieu Island Bird Sanctuary.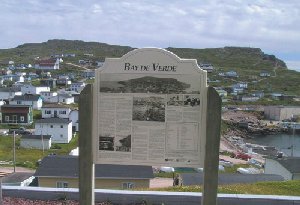 Bay de Verde Story Board

Iceberg in Bay de Verde Harbour
---
Baccalieu Island Ecological Reserve
Baccalieu Island Ecological Reserve is located two miles off shore. It is the largest seabird island in Newfoundland and supports the greatest diversity of breeding seabirds in Eastern North America. Baccalieu Island supports the largest known colony of Leach's Storm-Petrel in the world, approximately 40% of the global population and about 70% of the western Atlantic population of this species.
Birds on Baccalieu Island
The island also supports globally significant populations of Atlantic Puffin (45,000 pairs - approximately 12% of the eastern North America population); Black-legged Kittiwake (13,000 - approximately 5 to 7% of the western Atlantic breeding population); and Northern Gannet (677 pairs - approximately 1.5% of the North American population).