Green's Harbour, Whiteway, Cavendish
Back to Trinity Bay
Green's Harbour
Green's Harbour is an attractive community which provides services for the area, including a medical clinic and a modern Pharmacy. Two RV parks are located in the community.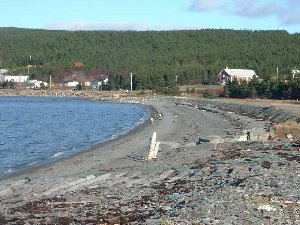 Green's Harbour Beach
The

Golden Arm RV Trailer Park and Cabins

provide developed accommodations for visitors, including laundry facilities, shower/washroom facilities, a dumping station, a picnic area and playground.

NicNacs

, an old fashioned general store, provides crafts.




Green's Harbour

---
Whiteway
Sites of Interest
Shag Rocks
Events
Whiteway Days- Last Week in July
Whiteway, named for Newfoundland Prime Minister, Sir William Whiteway, is developing a tourist industry. Pitcher's Pond Golf Course is scheduled for completion in summer 2003. Maple Ridge Folk Art Studio supply traditional crafts, including tole painting. Brown's Restaurant provides a varied menu.
Shag Rock is a famous landmark. The large triple-horned rock, jutting sharply out of the water near shore, is called the "Shipwrecker " and is a reminder of the dangers of the sea.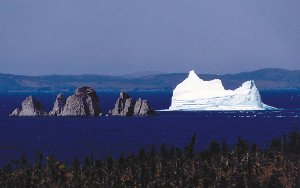 Shag Rock Photo: Albert Legge
---
Cavendish
Cavendish, renowned for its scenic beauty and its peaceful atmosphere, is a small community with unique rolling hills and a famous "look-out."
Once known as Shoal Harbour, it was renamed after the Governor at the time, Sir Cavendish Boyle, who wrote the lyrics for the "Ode to Newfoundland."
The town has a four star Bed &Breakfast , Blueberry Hill .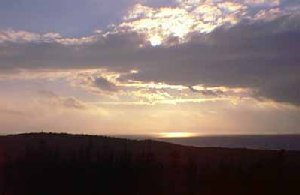 Cavendish at Sunset