Brigus, Georgetown
Back to Conception Bay

Brigus

Brigus Harbour

To See
Hawthorne Cottage
"Ye Olde Stone Barn"
The Tunnel
Wilcox Gardens
Malcom Bartlett - Vindicator Park
Things to Do
Baccalieu Players Theater

Major Events
Blueberry Festival - 3rd week August

Brigus is often compared to an old English town with its many rock walls, old style architecture, lush gardens, and winding roads. Numerous historical sites and attractions, and live events draw many tourists to the community.

Brigus Street

The Brigus Blueberry Festival, a major regional event, has grown more popular each year. In 2001 the Festival was selected winner for Newfoundland and Labrador in the Attractions Canada awards program. The 2002 festival brought from 12,000 to 13, 000 visitors from all over the world to the area.

The Festival welcomes visitors to three days of festivities, crafts, concessions, contests, a folk festival, cash bar, parade, pie eating contest, Missed Pageant, craft tables, baked goods, traditional food, moose burgers, games of chance, pre-teen and adult dances, Fireworks Sunday night and of course, blueberries.

The town has a number of Bed & Breakfasts, craft stores and restaurants; including: Emily's County Store & Coffee Shop, Brookdale Manor B&B;, Counry Corner Gift Shop & Eatery, Brig House Treasures, and Harbour House Inn.



Brigus

Kent Cottage is located in the hills to the north west of Brigus. The site of a Military Battery protecting the entrance to the Harbour, the home was built in the early 1800's by the Pomeroy family. For most of the 20th Century, it has been a studio for artists. The most famous of these, the American artist and illustrator, Rockwell Kent, took up residence during the First World War. His solitary lifestyle caused locals to become suspicious, and the Newfoundland government deported him as a spy.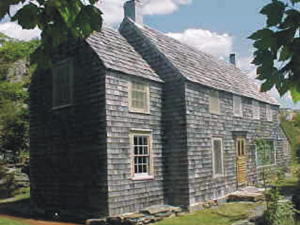 Kent Cottage
The Baccalieu Players, formed in 1996, are a group of enthusiastic volunteers based in Brigus. The Players' initial production, the "Steps Through Time" Dramatized Walking Tour, has become an annual attraction. It takes visitors on a 90-minute stroll through the town's narrow and winding streets, where, around every corner, another piece of the colourful past comes to life.
Baccalieu Players
Home of Arctic explorer Captain Bob Bartlett (1875-1946), Hawthorne Cottage houses many artifacts commemorating Bartlett's achievements and tell the story of family life in a small community.
Captain Bob Bartlett has been honoured around the world for enabling American Commander Robert Edwin Peary to make his celebrated dash to the pole in 1909. For this, and other contributions during a career devoted to northern exploration, he has been hailed as the greatest ice-navigator of the century.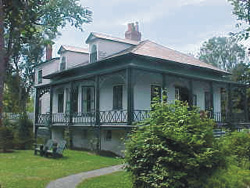 Hawthorne Cottage
In a compact area, Brigus offers a number of interesting attractions, which makes the town ideal for an afternoon or evening stroll.
Some of the attractions include:
Ye Olde Stone Barn Museum, which displays Brigus history, with photographs dating back to 1876 and artifacts covering a period of over 200 years.
The Tunnel, an engineering feat which was built in the summer of 1860 to provide easy access to Abram Bartlett's wharf.
Wilcox Gardens, which is called The Place of a Thousand Blooms , and is located in the heart of the town.
Brookdale Manor B&B;, Harbour House Inn, Restaurant & Pub, Baccalieu Players Theatre, Hawthorne Cottage Museum, Brig House Treasures, Country Corner & Eatery, and Emily's Country Store & Coffee Shop are members who provide services in Brigus.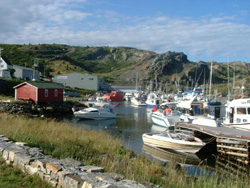 Brigus Marina
Georgetown
Georgetown, the town that begins the Conception Bay side of the Baccalieu Trail, is just beyond Brigus on Route 60. Scenery in the area provides opportunities for the photographer.