Welcome to Bay de Verde Heritage House and Baccalieu Island Exhibit, Newfoundland and Labrador, Canada

Bay de Verde is home of the renowned Baccalieu Island The Island supports the greatest diversity of breeding seabirds of any seabird colony in North America. More Leach's Storm Petrels breed on Baccalieu than anywhere else in the world. In addition, Baccalieu Island supports the second largest colony of Puffins in North America. The reserve is also home to Black-legged Kittiwakes, and one of only six Northern Gannet colonies in North America. Tourist visiting the Newfoundland and Labrador will surly want to check out the Baccalieu Island Interpretation Centre at Bay de Verde Heritage House.

History of Bay de Verde Heritage House
| | |
| --- | --- |
| | The Bay de Verde Heritage House was built in 1896 by a wealthy merchant named John Blundon. |
The Bay de Verde Heritage House was built in 1896 by a wealthy merchant named John Blundon. Mr. Blundon , a native of Bay de Verde , owned many schooners and also traded along the coast. He built his house on 7 Blundon's Point in accordance with this lifestyle complete with a five-sided porch, a full attic and a separate stairway for the servants. The house was occupied by the Blundon family until 1995.
The house was donated by Mrs. Dorothy Blundon and family to the Town of Bay de Verde on August 16 1996, which was exactly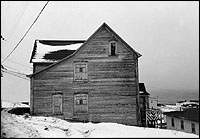 100 years after it was constructed. The Newfoundland and Labrador Heritage Foundation recognized 7 Blundon Point as a Registered Heritage Structure in May 1997. It is now preserved and used as a Heritage House.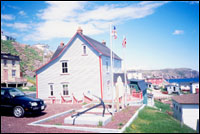 Today, within the Heritage House you will also find many interesting exhibits. One of these exhibits showcases Baccalieu Island, which is just three kilometers East of the scenic community of Bay de Verde. Also included is an exhibit on the Ryan Family Lighthouse and the Baccalieu Island Interpretation Centre.